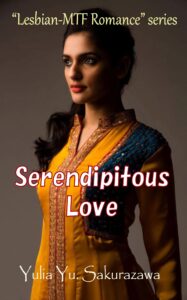 Yulia Yu. Sakurazawa's "Serendipitous Love" has been published.
32-year-old Sylvia George and her friend, Angela Andrew run a Lawyer-Detective Agency called Panorama Private Investigations. While Angela is married, Sylvia is still single. She has dated a few men and one woman, but her heart still belongs to a young boy she had loved when she was 14 years old. Though Sylvia has a fling with a young woman called Pooja Mishra, she is unable to love Pooja.
The receptionist cum assistant in the agency quits. She is replaced by a tall and beautiful woman named Jasmine. Jasmine is a young divorced mother who has a 3-year-old daughter named Amrin. Jasmine is loving, caring and gentle by nature and is a great asset to the detective agency. Sylvia falls in love with Jasmine and the two start a relationship.
Jasmine gets into a bitter custodial battle with her in-laws. Sylvia's helps Jasmine get custody of her child. During the course of her investigations, Sylvia discovers something very disturbing.
"Serendipitous Love" is a lesbian romance story with a strong touch of transgender suspense. This is not erotica.
Characters:
Sylvia George: is the protagonist of the story. She is tall, slim and beautiful, with long black hair and dusky complexion. At 32, Sylvia is a successful lawyer who runs a Lawyer-Detective agency with her friend, Angela. Sylvia is well-versed in litigation and has solved many cases with Angela.
Sylvia is still in love with a young boy she had dated in school. She subsequently dated a few men. Sylvia also had a brief fling with a girl named Pooja. Later, she finds true love in her new receptionist cum assistant, Jasmine.
Angela Andrew: is Sylvia's business partner. She is 37 years old, of medium height and very fit. Angela worked as a police officer for many years before starting her own detective agency called Panorama Private Investigations. Angela approaches Sylvia for a partnership and the two women provide legal services along with detection. Angela has a good business model in mind and her Lawyer-Detective agency works well.
Anita Andrew: is Angela's 32-year-old younger sister. She studied law in the same college as Sylvia, but decides to take another career. When Angela asked Anita to suggest a good lawyer for partnership, Anita recommended her friend, Sylvia George.
Ashraf Syed: is Sylvia's 14-year-old school boyfriend. He is fair, handsome, charismatic and kind. He and Sylvia had started dating while in school. Ashraf had to abruptly change schools as his father worked in a far-away place. His absence leaves Sylvia heartbroken. Sylvia had fallen head-over-heels in love with Ashraf and found herself incapable of forming successful romantic relationships in adulthood.
Mary Ann: is Sylvia and Ashraf's class teacher. She informs Sylvia that Ashraf has changed schools and will not be returning again.
Pooja Mishra: is the 24-year-old girl Sylvia had a fling with when she herself was 27. Pooja is short, petite, bubbly, vibrant and cute. She is adventurous and loves trying anything new. She wears bright, daring clothes and coaxes Sylvia to do the same. Pooja enjoys trekking and inspires Sylvia to accompany her on her outdoor treks. Pooja and Sylvia get into a sexual relationship for a brief period.
Tina Kulkarni: is a competent receptionist cum assistant who had to quit Panorama Private Investigations due to pregnancy.
Jasmine Fatima: is the receptionist cum assistant who replaces Tina. She is a tall, fair beautiful young woman in her early 30s. Jasmine has shoulder length brown hair and sparkling hazel eyes. She has a little daughter called Amrin whom she loves dearly. Jasmine is a single working mother who leaves her child at the crèche at 8 am and picks her up after work. Jasmine is unable to work overtime at the agency as she has to pick up her child from the crèche at 5:30 am. Yet she is a good employee. She is diligent, gentle, caring and performs various miscellaneous tasks on behalf of Sylvia.
Amrin: is Jasmine's 3-year-old daughter. She is a cute little girl with straight dark hair, round eyes and a tiny rosebud mouth. Amrin is active and talkative. She loves Jasmine very much.
Sonia Parven Mondal: is Amrin's mother. She is an orthopedic doctor in her early thirties. Appearance-wise, she is pleasantly plump. Sonia Parven takes a liking for Amrin's father and marries him after 2 years of dating. She gives birth to Amrin after 2 years of marriage. Since Sonia is a busy doctor, she returns to work when her baby is just a few months old. Sonia suffers an accident while in the hospital. She falls off the hospital stairs and dies of a concussion.
Mushtaq Mondal: is Sonia's tall, heavy-set dad. He is a stubborn, forceful man in his 60s. Mr. Mondal doesn't approve of his daughter's choice of husband. He minds the fact that his son-in-law is very young, bereft of family connections and earns lesser than his wife. Mr. Mondal also disapproves of his son-in-law's penchant for doing household chores. He regards his son-in-law as effeminate and unmanly.
After his daughter's death, Mr. Mondal tries to forcefully take away Amrin from her father. He tries hard to prove that his son-in-law doesn't have the financial means to raise the child.
Farheen Mondal: is Sonia's 60-year-old mother. She is a good-looking woman who dresses elegantly. Like her husband, Mrs. Mondal is disappointed with Sonia's choice of husband. Mrs. Mondal had nurtured dreams of getting her daughter married to an older, richer person than her current husband. Mrs. Mondal is embarrassed by her son-in-law's inclination to perform domestic tasks. She regards her son-in-law as unmanly and is ashamed on behalf of her daughter.
After Sonia's death, Mr. Mondal and her husband fight for Amrin's custody. Mrs. Mondal and her husband try to take away Amrin from her father.
Abdul Aslam: is Ashraf's distant relative. He is a widower with a young son, Firoz. When Ashraf's parents pass away in a car crash, Abdul is the first person to deliver the news to Ashraf. He picks up Ashraf from his hostel and takes him to Kolkata. Abdul adopts Ashraf. He treats Ashraf the same as his son. Abdul is pleased by Ashraf's success in academics and sports. He praises Ashraf in front of Firoz and asks Firoz to emulate him. Firoz starts resenting this and develops hatred towards Ashraf.
Firoz Aslam: is Abdul's son. He is the same age as Ashraf. Firoz is short, squat and unattractive. He is lazy as a result of which he is unsuccessful in academics and sports. Firoz is constantly compared to Ashraf by Abdul and asked to emulate the latter. Abdul's love and admiration for Ashraf breeds jealousy in Firoz. He starts hating Ashraf and orders Ashraf to do menial tasks when Abdul isn't at home.
Abdul passes away when Ashraf and Firoz are in their early 20s. When Ashraf arrives from Delhi to pay his last respects, Firoz doesn't allow him into the crematorium.
Later in the story, Ashraf (disguised as a woman) and his little daughter seek refuge at Abdul's house. Firoz treats Ashraf badly and orders him to do lowly tasks. He is forced to take female hormones and undergo gender change surgery. Firoz forces Ashraf to sleep with his friends. Unable to bear the humiliation, Ashraf flees to Mumbai with his child.
Payal is a kind, helpful hijra who helps Ashraf. She likes wearing colorful clothes, heavy makeup and jewelry. She exchanges her clothes with Ashraf's and helps Ashraf trick his in-laws. Payal arranges Ashraf and Amrin's escape to Kolkata. She is a friendly and generous person.
Durga Prasad: is the truck driver who helps Ashraf and his daughter when Ashraf's in-laws are pursuing him. Durga Prasad is a robust, mustached man in his 40s. He is friendly and loyal, kind and reassuring. He drops Ashraf and Amrin in front of Uncle Abdul's house.